The history of Jamaican popular music converges on Orange Street. Its function as a principal artery carrying traffic north from Ocean Boulevard up to Cross Roads — the de facto boundary between downtown and uptown Kingston — makes it a locus of activity. Known locally as Beat Street, the record stores and small studios that began to line the thoroughfare during the prosperous post-war years transformed it into an important music corridor. Overlapping layers of music history spanning genres and generations unfold along almost any stretch of the strip. On the corner of Orange and Beeston Street, for example, at the height of the ska era Lee 'Scratch' Perry conducted his infamous Sunday afternoon Studio One auditions out of Coxson Dodd's Music City, only a couple blocks from the childhood home of future Crown Prince of Reggae, Dennis Brown. In later years aspiring musicians congregated one short block to the east at the Idler's Rest, an outdoor gathering place on Chancery Lane where a draw of herb could be enjoyed in peace and you could be easily reached to record. Like a musical Galapagos, Orange Street and its environs operated as a self-contained eco-system incubating the evolution of the nation's nascent music industry.
Introducing the world to his signature "Far East Sound" — an ethereal, melodica-laced, minor-key nod to the Jackie Mittoo-era Studio One — Augustus Pablo made his name as a talented multi-instrumentalist with the hit track "Java" in 1971, a flood of classic singles throughout the early seventies, and a popular debut album, This is Augustus Pablo, in 1974. Despite his rising star, it wasn't until the breakaway success of his seminal dub album King Tubbys Meets Rockers Uptown in 1976 that Pablo was able to afford a retail location for his label, Rockers International. With a strong solo career under his belt, Pablo now focused his efforts on providing his trademark mystical instrumentals for the young singers like Hugh Mundell, Norris Reid and vocal trio Tetrack who were beginning to gravitate to the label. Just a couple doors down from Prince Buster's Record Shack at 127 and Cash & Carry Records at 125, Rockers International, at 135 Orange Street, occupied prime real estate in the heart of Jamaica's music mecca.
Today, Beat Street is a shadow of its former self. A long, slow rate of attrition initiated by the digital drift of the music industry, and assisted by governmental neglect, has gradually gutted what was once a vibrant scene. With a disappearing domestic market and unable to subsist solely on the occasional pilgrimage by fanatics from abroad, stores are being shuttered one by one. Pablo passed away in 1999 at the age of 44 due to complications from a rare nerve disorder, but the family maintains ownership, and Rockers International stands defiant in the face of the changing tide. They are truly one of the last of a dying breed.
The store has just opened for the day when we arrive. LPs cover the walls and 45s hang from the store's high ceilings. It is small, but not claustrophobic. After quick introductions and a short conversation, Mitchie Williams, the local musician who runs the place day-to-day, digs under the L-shaped counter to produce multiple stacks of original pressings of classics from the seventies and eighties. As I rifle through records, I'm oblivious to the cast of neighborhood characters slowly accumulating in the store. The formerly quiet space animates when I put a water-stained blank label 7-inch single on the already spinning turntable. It turns out to be a test press of "This Love" (1981) by Delroy Williams, and I'm ordered to let it run. If it wasn't for the heavy static of the badly damaged record or the Usain Bolt newspaper clippings on the door tethering me to the present era, I'd be time traveling.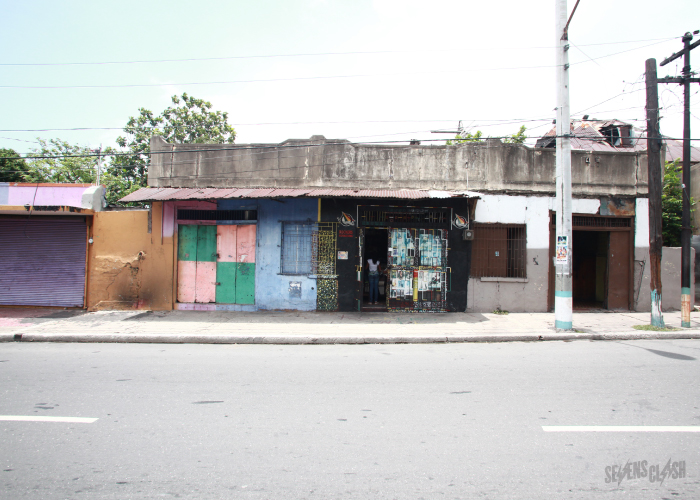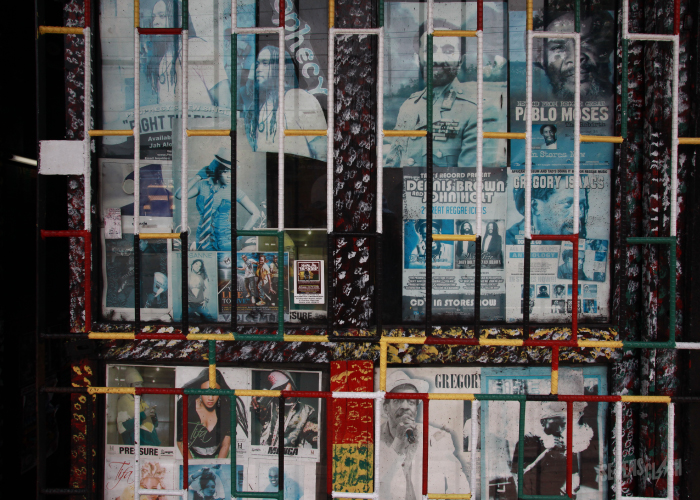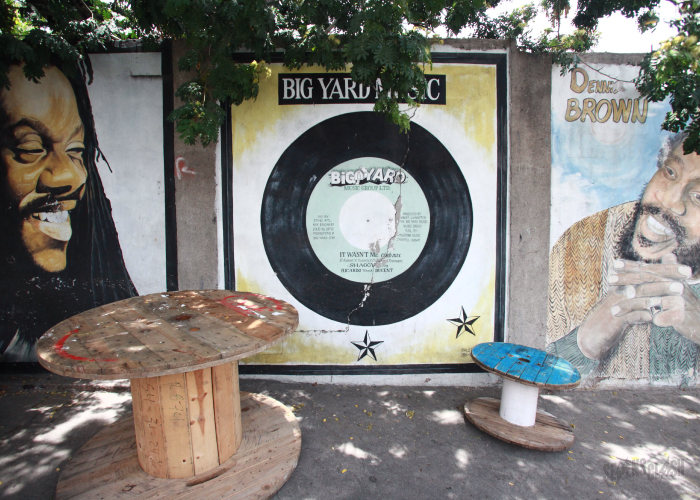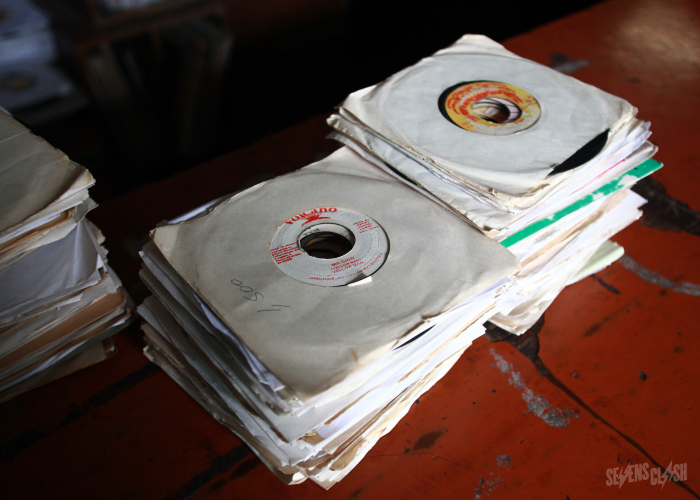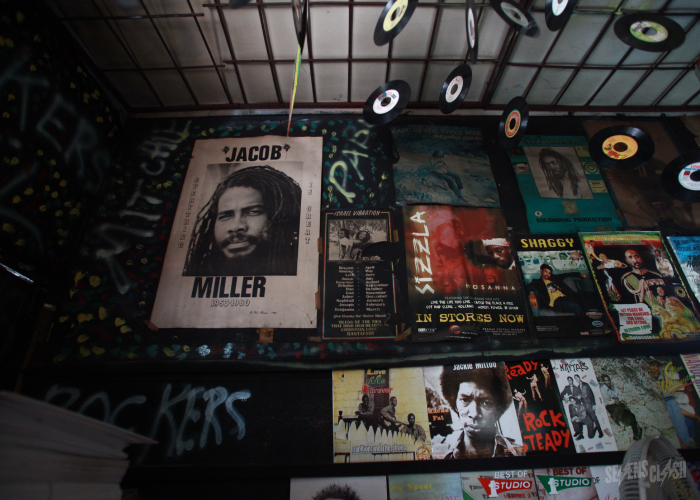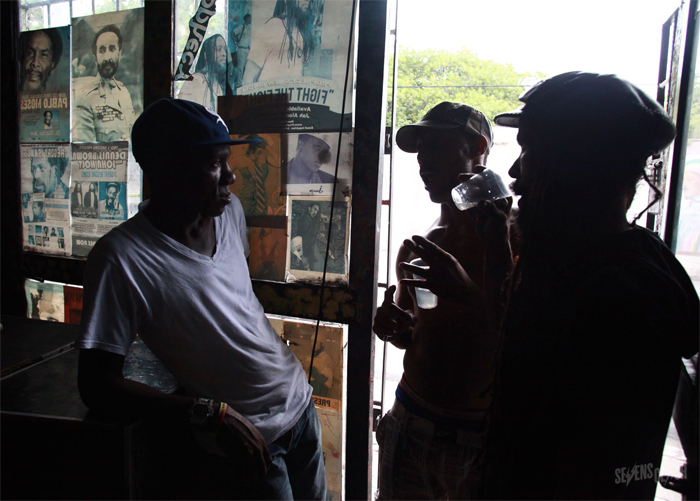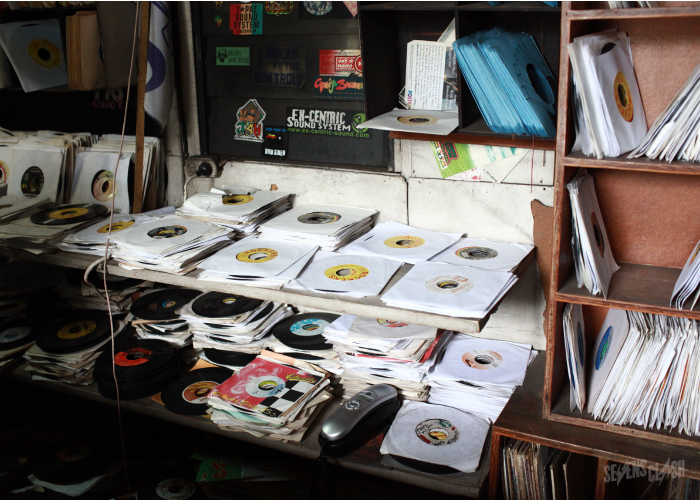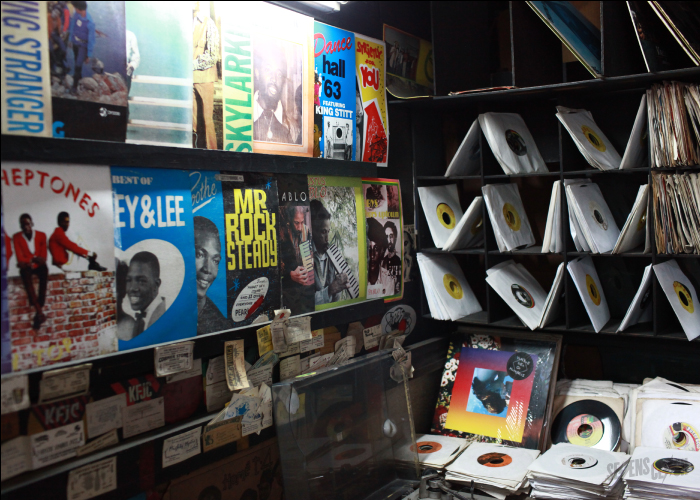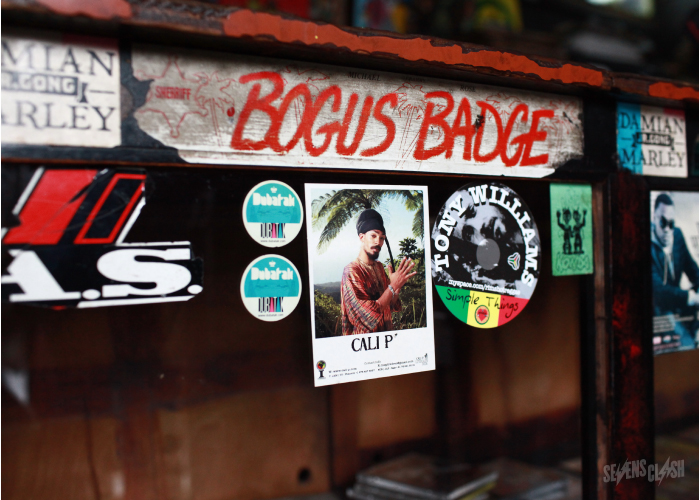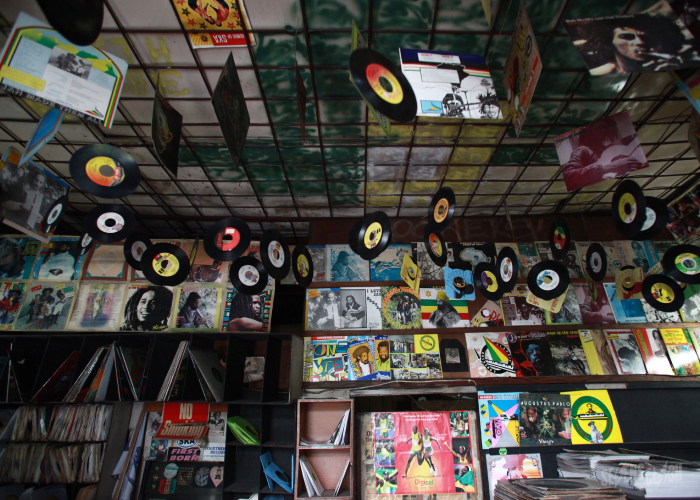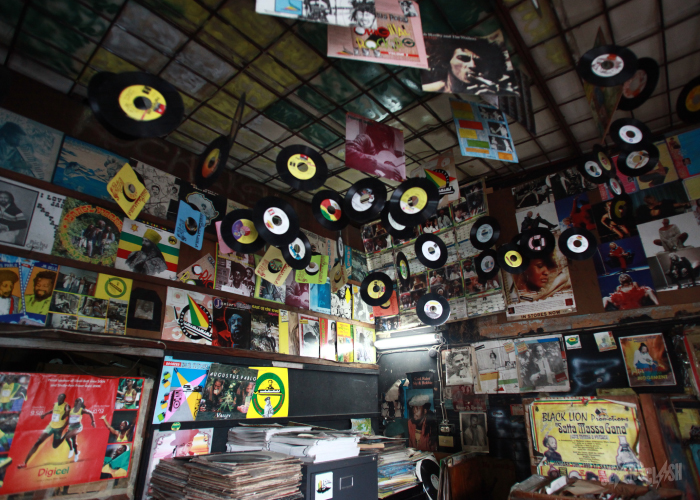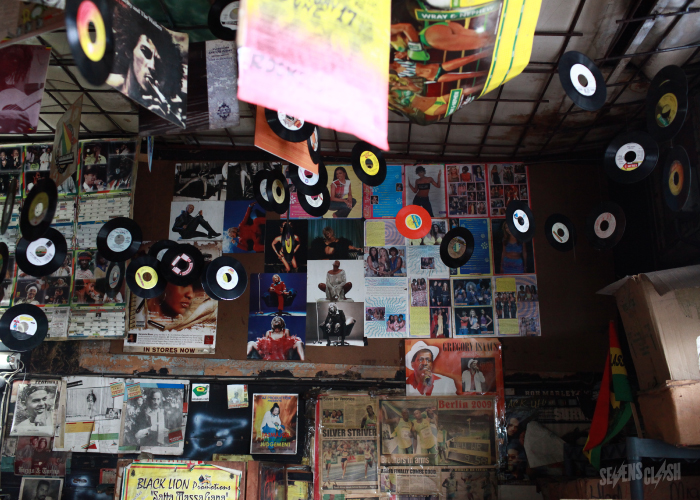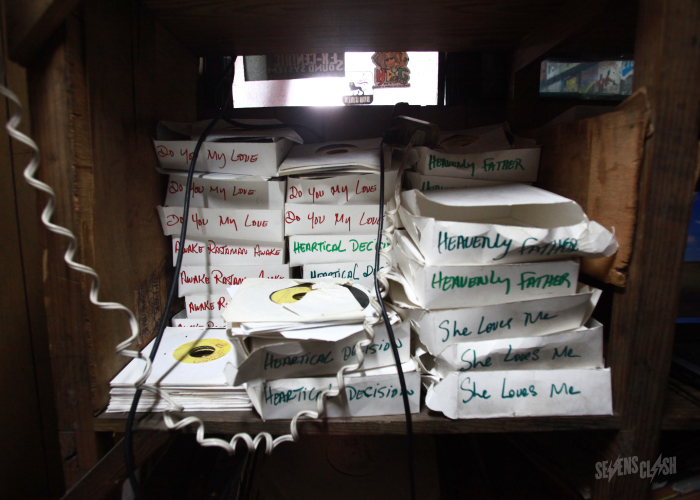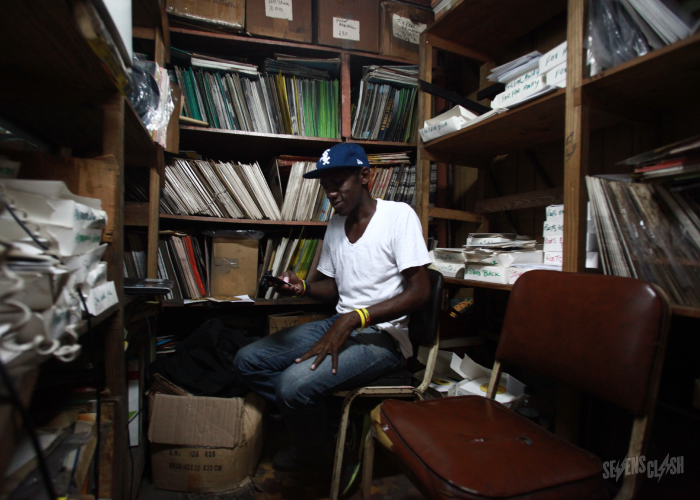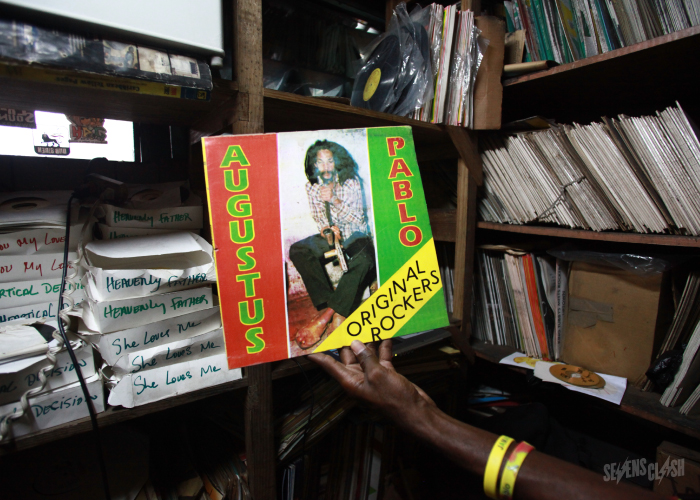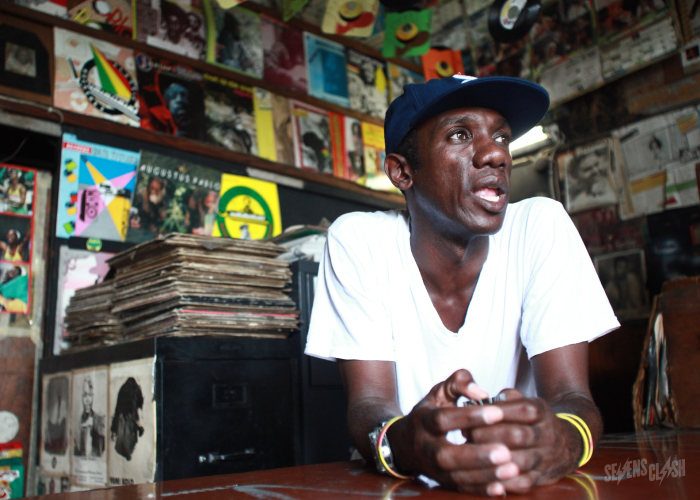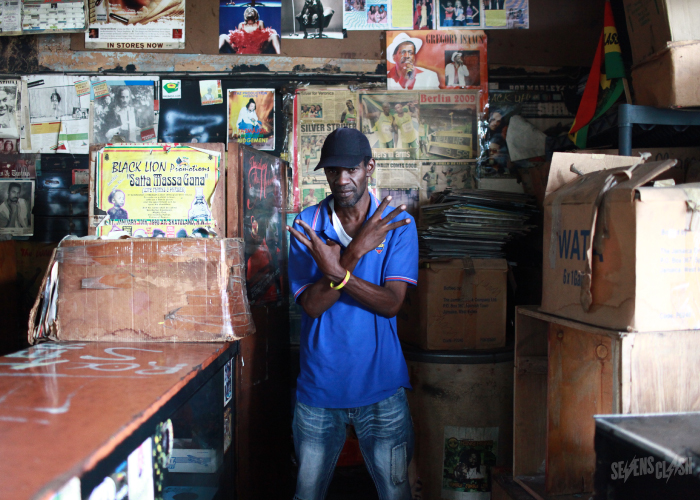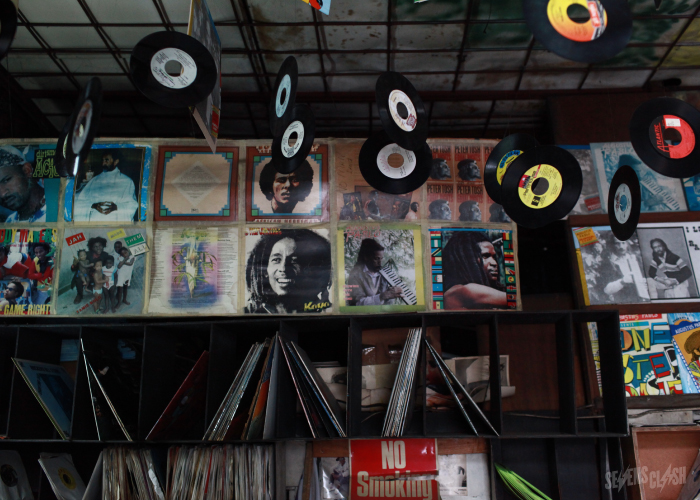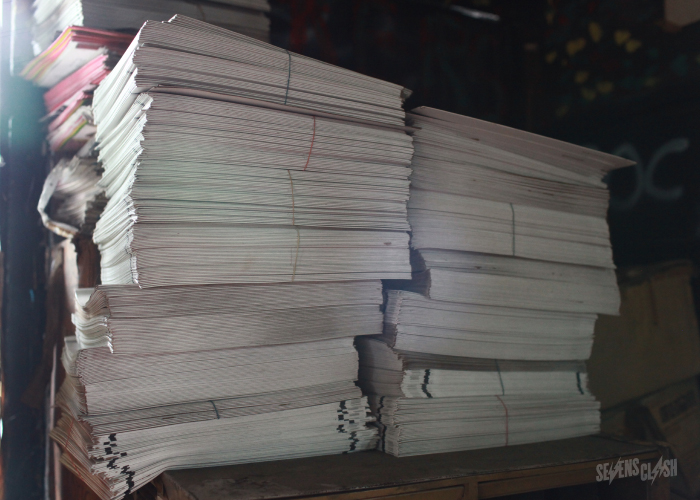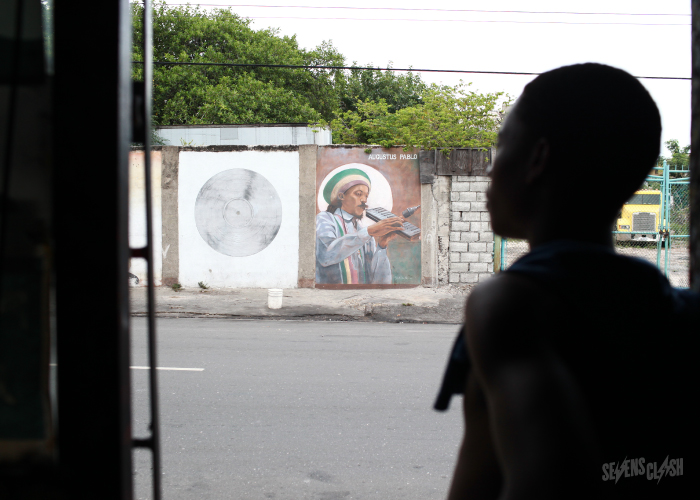 words: Sean Stewart
images: Alexander Richter
design: Anthony Harrison