Tattooing is a relatively new phenomenon in Jamaica. Outside of a small number of professionals scattered throughout the tourist towns on the north coast, it has traditionally been the domain of amateurs using improvised equipment. In years past, tattoos seen on the street in Jamaica were typically of a caliber somewhere between the amorphous blob of ink disfiguring Kenyon Martin's neck and the stick 'n' poke tribal design on your favorite gutter punk's forehead. On our recent trip to Kingston, however, it seemed as if there had been a tattoo renaissance. From dancehall artists with full sleeves to young professional women with elaborate hand tattoos, we encountered a wide range of people rocking ambitious pieces of an unexpectedly high quality. What changed?
Having percolated through the counterculture for decades, tattooing took a giant leap toward mainstream acceptance in the U.S. when mega star Janis Joplin flaunted her Lyle Tuttle tattoos on The Dick Cavett Show in 1970. By the time the '90s rolled around, tattooing had come in from the cold completely. Whether it was The Backstreet Boys or Tiffani Amber Thiessen, Eminem or Allen Iverson, getting a tattoo was no longer perceived as an act of rebellion in the exclusive purview of outlaws. In fact, your visuals were at the extreme risk of being flooded with indecipherable Kanji and barb wired biceps on any given channel surfing session during the decade. While tattoos approached ubiquity in American popular culture, Jamaica was enjoying a rapid proliferation of unlicensed cable TV operators across the island. Previously a luxury only available to those wealthy few able to afford a satellite dish, the sudden and widespread access to American TV, at a time when tattoos were at their most visible, had a profound effect on the Jamaican culture at large.
The waves of deportees from the U.S. who are dumped unceremoniously in the island each year continue to fuel the cultural diffusion initiated by this cable TV craze. Signed into existence by Bill Clinton in 1996, the Illegal Immigration Reform and Immigrant Responsibility Act (IIRIRA) greatly broadened the basket of crimes for which a legal alien could be deported to their country of birth. Aggressive enforcement has guaranteed that each batch of deportees contains a not insignificant amount of men and women who haven't stepped foot in Jamaica in their adult lives (many of them brought to the U.S. as infants by their parents) and who actually identify as Americans. To give you an idea of the impact of IIRIRA, in the last 16 years there have been close to 40,000 people deported from the U.S. to Jamaica — a country with a population of less than three million.
If deportees and cable TV act as convenient conduits for the introduction of the trend, it is the Internet which has provided the infrastructure necessary for the growth of the island-wide industry that will sustain it. The relatively easy access to tattoo technique and equipment online has allowed for enterprising would-be tattoo artists to gather the tools of the trade without needing to serve as an apprentice on the north coast. The tattoo industry in Jamaica is still in its infancy, to be sure, but the sheer amount of tattoos around town indicates that something significant has changed.
So where are the tattoo artists? Everyone we asked said, cryptically, that though there were a few that we could check for, we should go meet the white man uptown. This we did. Starting in 2001 as a self-taught teenager with a collection of homemade tattoo machines — and a handful of brave souls for friends — Tattoo Phillip showed an early and natural talent for the craft. Shortly after picking it up, he dropped out of art school, where he was studying graphic design, to pursue tattooing professionally. Today he works out of a private home studio and relies strictly on referrals and word of mouth. Phillip's professed specialty is detail and shading work, and with a client list that includes prominent musicians, Olympians, media personalities and Miss Jamaicas, his pedigree is unique among Jamaican tattoo artists. When we arrived he had just finished a marathon sitting but was gracious enough to show us around his studio.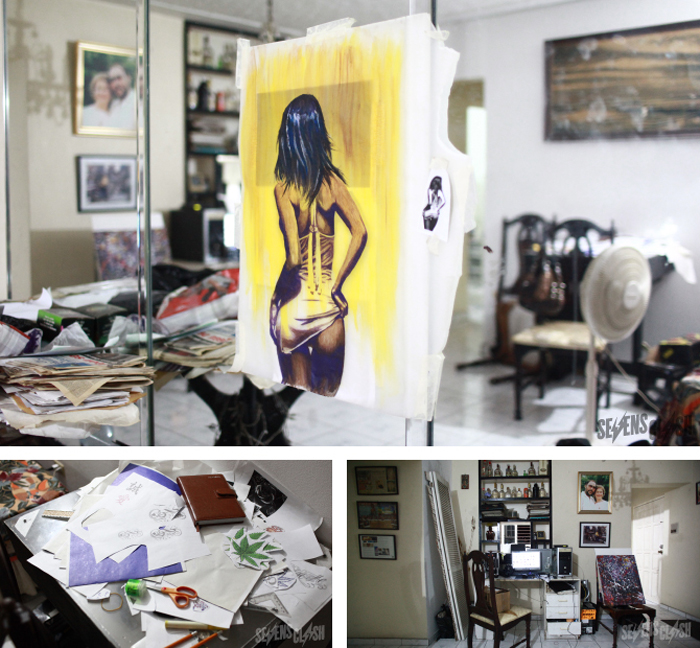 1. Sevens Clash: What's the story of the first tattoo you got?
Tattoo Phillip: Being a rebel; being a bad child, y'simmie? You had a guy named Drew who used to run the tattoo scene out here. He's in Montego Bay, but he's crippled now—him did meet in a car accident, so that did kind of put him off track. He did my first three tattoos.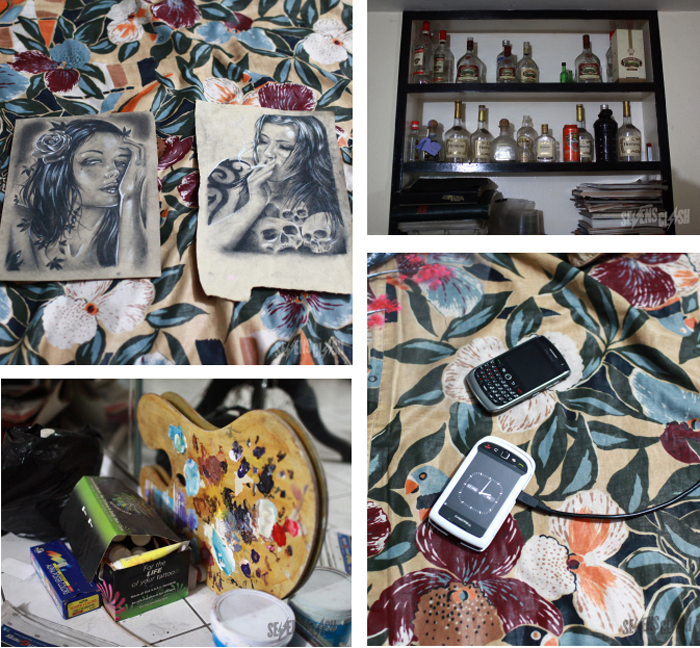 2. (a) SC: How long have you been tattooing and who taught you?
TP: I've been doing this 11 years now. I teach myself. I made my machine in the beginning—I built maybe three or four machines overall.
(b) SC: You still have any of them?
TP: Mi throw 'way that long time!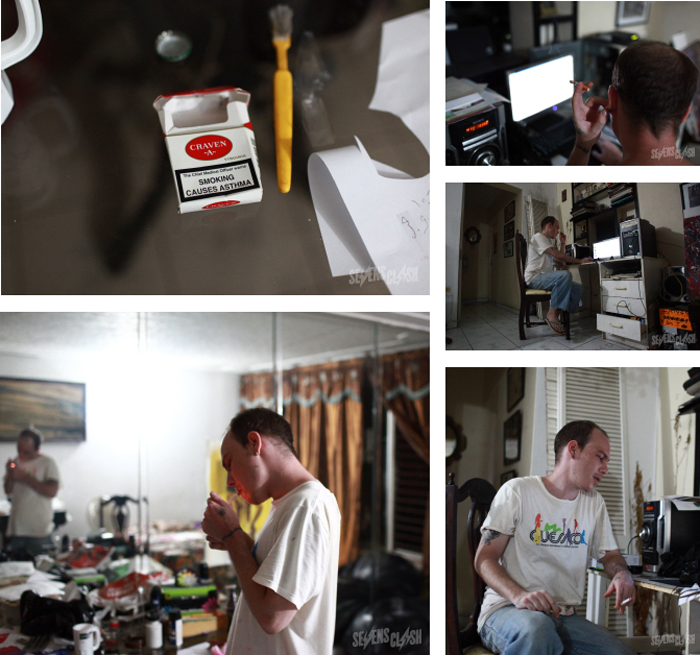 3. SC: Vybz Kartel, Aidonia, Don Corleon, Bounty Killa, Russian are just a few of the artists that have been through your studio. How long have you been tattooing musicians?
TP: A just recent the artist them really start get tattoo. I mean, I've done one and two of them from back in the days, but most of the time it was some small tattoos. Is just recent them start go OD with it. Before, I wouldn't really use much of them as reference because them would have some typically normal tattoo. Nowadays you would find them more with projects…big tattoos.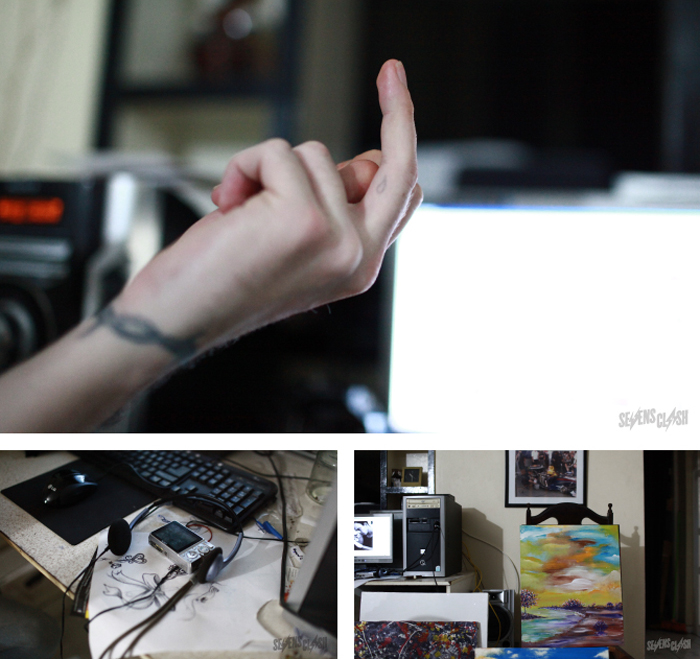 4. SC: Are these your paintings?
TP: Yeah, but all of these is just in the past two years. Because they are time-consuming, I don't really get to finish them. And tattooing take up most of my time anyway.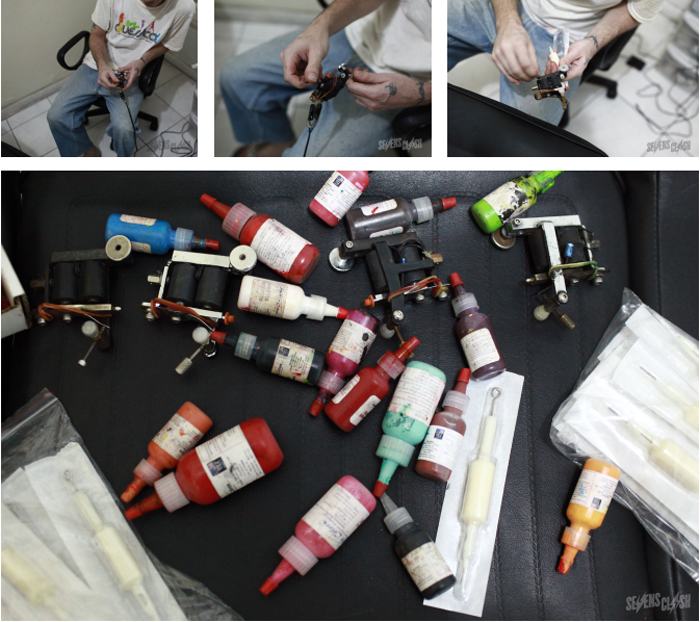 5. SC: What led to you leaving art school?
TP: The teachers don't give a fuck. I was outside smoking with the teachers most of the time while class is going on. It was maybe only two or three teachers out of the whole school, to me, that really push you and really teach you. Most of them come in and say, "Do a painting, carry that in next week." Them don't give a fuck. But then again, that's how them say college is—the teachers not supposed to run behind you or wha'ever. But them also supposed to teach, y'simmie? Also, because I got a job tattooing while I was there, sometimes I was skipping class to do tattoos. I was going there for graphic design, and halfway through the year I decided it was tattooing that I wanted to do full time.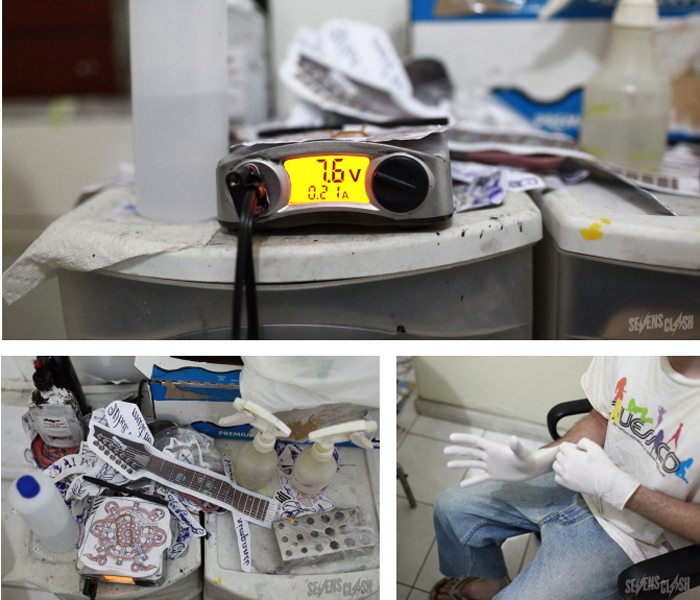 6. SC: Would you ever open up a shop with other tattoo artists?
TP: I've thought about it many times. One of the reasons is that here I don't take on any and everybody. True I did a video with [Vybz] Kartel and my number was in it; I started getting whole heap of unwanted calls from all over the place. With the shop now, at least if you come through and talk with me you more have a chance. But with the shop thing, it's a lot of expense. Overseas they are getting supplies for one-third the price I'm paying, and they can charge three times the amount. Also, with having other artists, it's kind of fucked up because the minute they get good enough, trust me, they're gone on their own. I did it. It sounds fucked up, but that's the reality of the situation.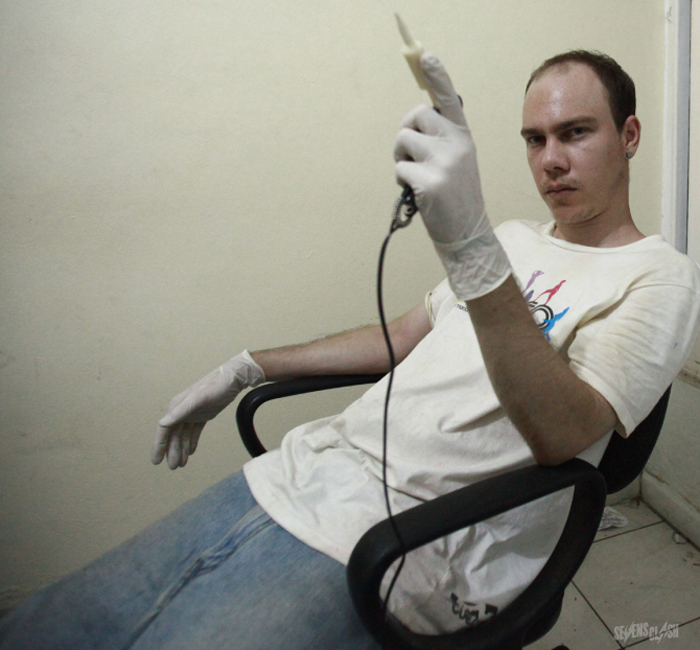 7. SC: Are you tattooing every day?
TP: Basically. Christmas, New Years, Sundays…every day is any day, y'simmie?
words: Sean Stewart
images: Alexander Richter
design: Anthony Harrison
DOWNLOAD A HIRES PDF OF THIS ARTICLE